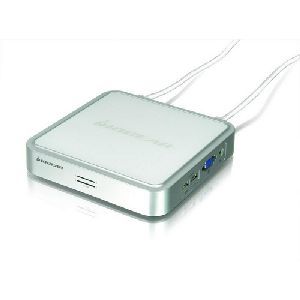 IOGEAR 4-Port USB KVM Switch
Introducing the four port 4-Port USB KVM switch from IOGEAR - A simple solution for those with more PCs than hands. Use one USB keyboard, one monitor and one USB mouse to control up to four USB computers. This self-powered KVM switch features the unique USB sniffing technology for USB mouse & keyboard emulation to ensure smooth operation, as well as support for Plug-n-Play monitors and most wheel mice. Our patented VSE Video Signal Enhancement technology provides rich, 32-bit color at resolutions up to 2048 x 1536.
Another big plus of this switch is the capability to provide audio support, it allows you to share your multimedia speakers among the two connected computers. This switch also offers multi-platform support, it is compatible with Macs and Sun Solaris workstations. IOGEAR made a huge breakthrough in supporting Mac and Sun, by allowing Mac and Sun special keys to be functional, either with the Mac or Sun keyboard as the console keyboard, or with a standard PC keyboard. When using a PC keyboard, a special set of hot keys are designated to emulate the Mac and Sun special keys.
With all KVM cables included with the unit, all you need to do is to plug in your computers, and you've got a complete KVM solution from IOGEAR
Quickly switches between sources without physical access
Get high-resolution video with impressive clarity, thanks to the 2048 x 1536 resolution.
Establishes a rapid connection with USB devices
---
We Also Recommend
---