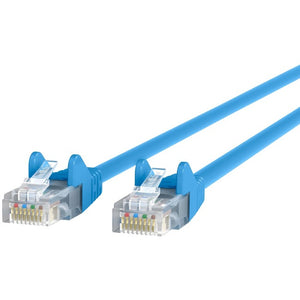 Belkin Cat6 Cable
CONNECT EASILY TO A COMPUTER NETWORK
Upgrade your network and enjoy clean and clear transmissions with the Belkin CAT6 Ethernet Patch Cable. This patch cable lets you connect a laptop or desktop computer to a wall outlet, modem, router or another networking device. It meets the CAT6 standard and is suitable for use with 100/1000BASE-T networks. Patch cables are also handy in home offices and hotel rooms to establish a wired Internet connection. .
RJ45 PLUGS WITH GOLD-PLATED CONTACTS FOR A CLEAR SIGNAL
The Belkin CAT6 Ethernet Patch Cable features an RJ45 male connector on each end. Internal load bars ensure accurate plug positioning and consistent high performance, while 50-micron gold-plated connectors resist corrosion and wear and deliver a clean, clear signal.
GIGABIT SPEEDS WITH CAT6 TECHNOLOGY
Made with Unshielded Twisted Pair (UTP) stranded copper wires, this cable meets the CAT6 Ethernet network cable standard and can support Ethernet speeds of up to 1 gigabit per second. Unlike CAT5 technology, CAT6 cables fully use all four pairs of twisted copper wires for greater bandwidth and speed.
LESS CROSSTALK WITH TWISTED PAIR WIRES
The CAT6 Ethernet Patch Cable features 4 UTP 24 AWG (American Wire Gauge) stranded copper wires to reduce electromagnetic interference. Stranded cables are more pliable than solid cables, making them better suited for travel. Plus, the wires are housed in a durable PVC outer jacket for abrasion and corrosion resistance.
Available in multiple colors and lengths
TIA/EIA-568-C Compliant
Snagless molds protect the RJ45 tabs from damage during installation
50-micron, gold-plated connectors ensure clear transmissions
Exceeds CAT 6 performance requirements - Performance tested to exceed 500MHz
Supports 10GBASE-T (up to 50 meters)
Supports 10/100/1000 BASE-T
Perfect for VoIP, video, and file transfers
Maximize your network speed with higher bandwidth and enhance your network for future expansion
Upgrade your network with a CAT6 Snagless Networking Cable from Belkin and enjoy clean, clear transmissions. Now you can replace CAT5 cables that don't support 100BASE-T or Gigabit Ethernet and improve the return loss in your current network by 40 percent. Engineered with 50-micron gold-plated connectors to ensure clear transmissions, and snagless molds to protect the RJ45 tabs from damage during installation, this cable meets and exceeds the performance requirements of Category 6
---
We Also Recommend
---